Trust Wallet Token (TWT) rose to the top after Binance listed it in futures trading.
TWT, the cryptocurrency of the crypto wallet platform Trust Wallet, came to the fore with the rise it experienced during the day. TWT has increased by over 20 percent in the last 24 hours.
The increase in TWT was exacerbated by the Binance announcement in the morning. Binance announced on November 3 that it would list TWT in futures. There was an increase in reaction on the TWT side. The popular cryptocurrency is the highest riser of the day.
Trust Wallet Token (TWT) chart analysis
Binance announced that it will list its crypto wallet project Trust Wallet Token (TWT) on futures. TWT, which will be listed with 50 times leverage, became the most rising cryptocurrency of the day due to the news effect.

TWT, which will be opened for trading in futures in the evening, spends the day with an increase of nearly 17 percent. TWT attracted attention, especially with the increase it experienced in the last 24 hours.
When we look at the TWT chart, the 21 percent increase in the last 24 hours stands out. This rise gained ground with the Binance listing. Binance listing kept TWT price above $1.20. However, when the news effect passes, it may negatively affect the TWT price.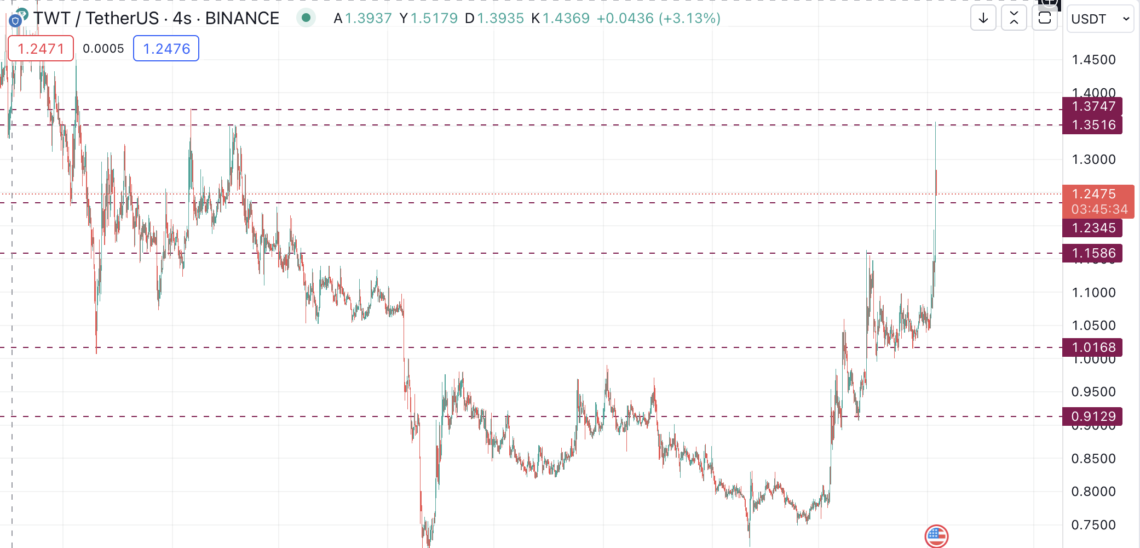 TWT, whose market value is approaching 532 million dollars, has almost doubled since the beginning of September. While the TWT price was at $ 0.7911 at the beginning of September, it dropped to $ 1.32 during the day.
TWT started to ring the bullish bells by maintaining persistence above $1.15. Ahead of TWT lies a sharp resistance point at $1.35. The market remaining positive and futures impact could facilitate a test of $1.35. If TWT breaks through this zone, its next stop will be $1.375. If the major resistance at $1.375 breaks, TWT price could reach $1.40 in a short time.
On the other hand, TWT may decline due to the market turning negative and selling pressure increasing. The prominent support point in this decline will be $ 1,235. It can be broken easily as $1,235 is the immediate support point. If this zone is lost, TWT could test the major support at $1.15. If $1.15 breaks, TWT price could decline sharply to $1.0168.
Trust Wallet, which offers a decentralized crypto wallet service, includes Binance's investments. The crypto project, backed by Binance, stands out as the 70th best project in terms of market value.