Hello everyone from the new year Dear Coinkolik Family, I hope 2023 will be much better than 2022.
We said that we will talk a lot about regulations on the crypto side this year. We opened the week with the news that Italy will charge 26% tax on crypto asset profits over EUR 2,000. One of the most important developments that we will follow closely is that former FTX CEO Sam Bankman Fried (SBF) will be brought to court by the US District Court for the Southern District of New York. SBF will defend against a total of 8 charges, two of which are fraud.
This week in the economic calendar; Tuesday Inflation in Turkey and Germany, Wednesday Eurozone – Services Purchasing Managers Index (PMI) and US ISM Manufacturing Purchasing Managers Index, Thursday US Private Employment Report and Services PMI index, Friday Eurozone Inflation , The US Non-Farm Employment and ISM Services Index will be launched. In addition, the minutes of the last FOMC meeting will be released on Wednesday.
Important Developments of the Week We Will Follow
Monday, January 02, 2023
Markets are closed due to the US, UK, China New Year's Holidays
Tuesday, January 03, 2023
Turkey Consumer Price Index (CPI) (Annual) Expectation: 66.53%, Previous: 84.39% – 10:00
Friday, January 06, 2023
EURO Region Consumer Price Index (CPI) (YoY) Expected: 9.7%, Previous: 10.1% – 13:00 CEST
US Non-Farm Employment Data Expected: 200k, Previous: 263k – 16:30 CET
US Unemployment Rate Expected: 3.7%, Previous: 3.7% – 16:30 CET
Bitcoin Technical Analysis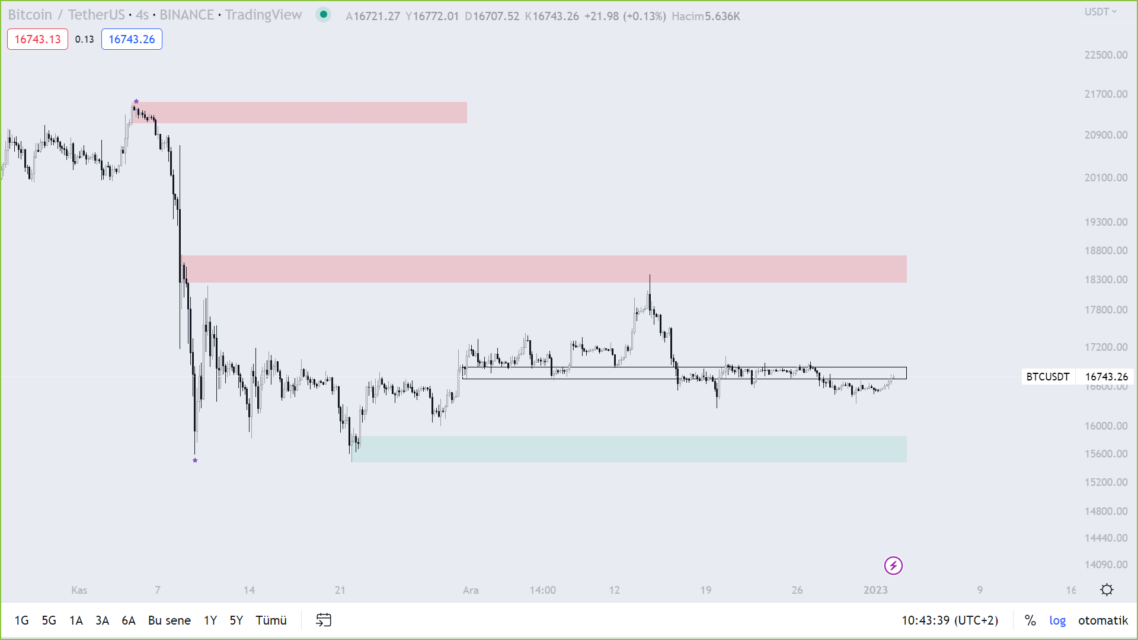 Bitcoin started 2023 with a horizontal positive outlook. It continues to maintain its horizontal movement at 16.600 levels due to the fact that the markets are on holiday and the cash inflows are low. The black box area is our important support area that will hold the price. If this area is not won with 4-hour closes, the price may visit the 15.800 region to find more liquidity. If 4-hour candle closes on the black box come, the price may rise up to the first resistance area, 18.200.

According to data from cryptocurrency analytics platform DeFi Llama, the Total Locked Assets value reaches $39 billion. Lido DAO (LDO), the Ethereum (ETH) Layer-2 staking protocol, surpassed MakerDAO with a Total Locked Asset (TVL) value of $5.9 billion. Thus, Lido became the DeFi protocol with the highest TVL.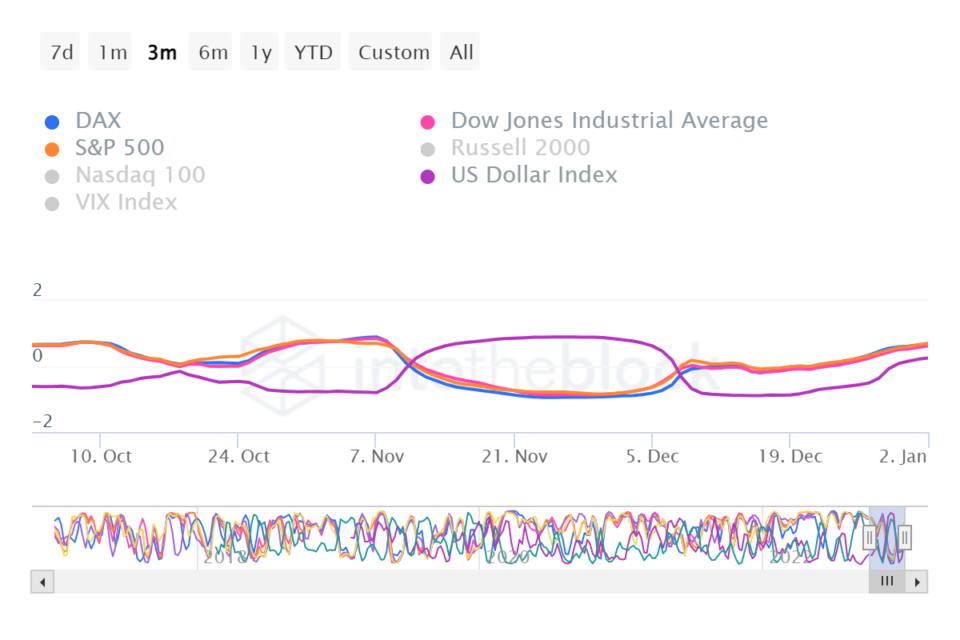 The historical correlation between crypto markets and traditional markets is important for understanding how macro markets affect crypto and how their relationships evolve. If the coefficient is close to 1, it means a strong positive correlation between the two prices, close to 0 no correlation, and close to -1. indicates a strong negative correlation. (That is, the price of Bitcoin and benchmark assets tend to move in opposite directions.)
Last Week's Top Rising Cryptocurrencies
OCD (OCD) 29.1%
BitDAO (BIT) 24.4%
LidoDAO (LDO) 20.7%
OKC (OCT) 14.7%
Cosmos (ATOM) 9.6%
Last Week's Featured Crypto News
Ripple Partner Agreed with Visa : Thai FinTech giant and Ripple partner DeeMoney has partnered with Visa to integrate Visa Direct into its international payment platform. The partnership will allow users to make nearly instant international payments to more than 170 countries in 160 currencies using only the recipient's Visa card details.
Famous Investor Thinks Solana Ecosystem Will Disintegrate! Investor Ben Armstrong, known on social media as Bitboy Crypto, believes more projects will leave the Solana (SOL) ecosystem. Last week, Dust Labs announced that it will move the most important NFT projects (DeGods and y00ts) on the Solana network to the Ethereum and Polygon networks.
Crypto Companies Going Bankrupt in 2022 : The crypto money market will remember 2022 with the bankruptcy of the most important actors of the sector. FTX, Three Arrows Capital, Voyager, Celsius and Blockfi.
Biggest Crypto Hacks in 2022 : The total value of assets lost to crypto hacks this year has reached a record $3 billion. Among the biggest crypto attacks of 2022, security incidents involving cross-chain bridges and decentralized finance (DeFi) protocols stood out, causing hundreds of millions of dollars in losses.