Mask Network (MASK), which launched as of November 1, achieved a 37 percent increase.
The cryptocurrency market has left behind the month of September, when there were plenty of increases. While BTC increased by over 35 percent in September, increases up to twofold were observed in altcoins. After September last year with great expectations, November turned out to be a month of declines.
While the crypto market exhibited downward activity in November, MASK achieved a remarkable rise. MASK, the token of Web3 and decentralized socialization platform Mask Network, has witnessed a 37 percent increase since the beginning of November.
Mask Network (MASK) continues its rise
Mask Network (MASK) had a strong start to November. While the popular cryptocurrency was at $2,825 on November 1, it rose to $3,873 during the day. MASK's rise gave a bullish signal as it broke the $3,456 resistance.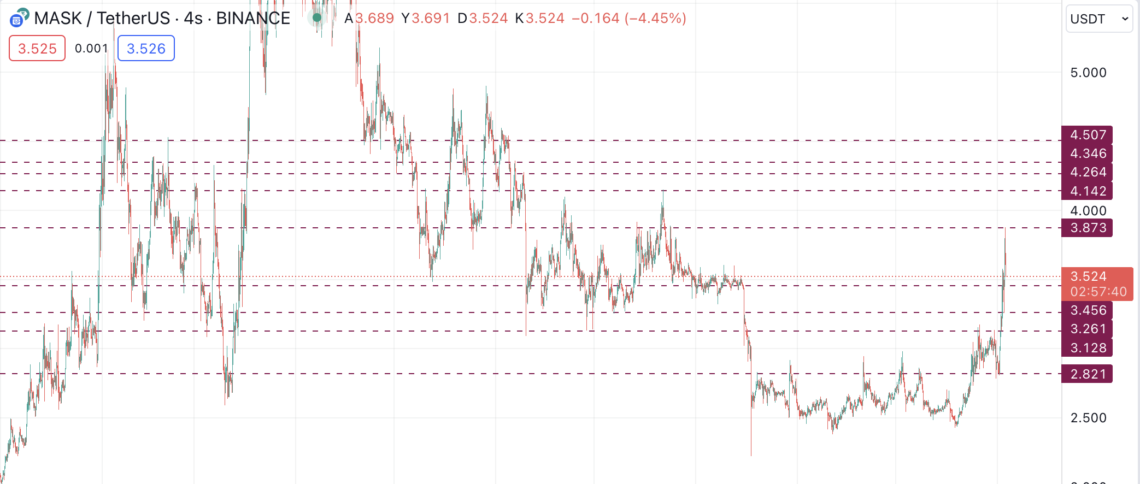 MASK attracted attention by overcoming the points of resistance one by one. MASK's rise intensified with the break of the $3,456 resistance. The popular cryptocurrency dropped a needle at $3,873. The $3,456 resistance from August has become a current support point.
MASK has the potential to continue its rise. If MASK spends the day in this price zone, it may retest $3,873. If the $3,873 resistance is broken, MASK will reach the highest price level since July. MASK's rise may continue up to $4,142. If this price zone is exceeded, $4,264 can be seen on the MASK side. Other resistance points for the popular cryptocurrency will be $ 4,346 and $ 4.5 respectively.
If market conditions reverse and there is a decline, MASK may test the old resistance point at 3,456. If this support is broken, there may be a sharp decline to $3,128. The popular crypto project could clear liquidity at $3,261 on this decline. Finally, MASK could touch the main support point at $2,821 if the decline continues.