Ethereum co-founder Vitalic Buterine's X account was seized and nearly 700 thousand dollars were stolen.
at night time Vitalic Buterine The post from account X caused concern in the crypto ecosystem. The hacker who took over Buterin's NFT He published a post saying "distribution". Users who clicked on this post automatically gave their wallet permissions to the hacker. Although the post was removed in a very short time, the identity of the attacker who stole more than $ 691,000 has not yet been identified.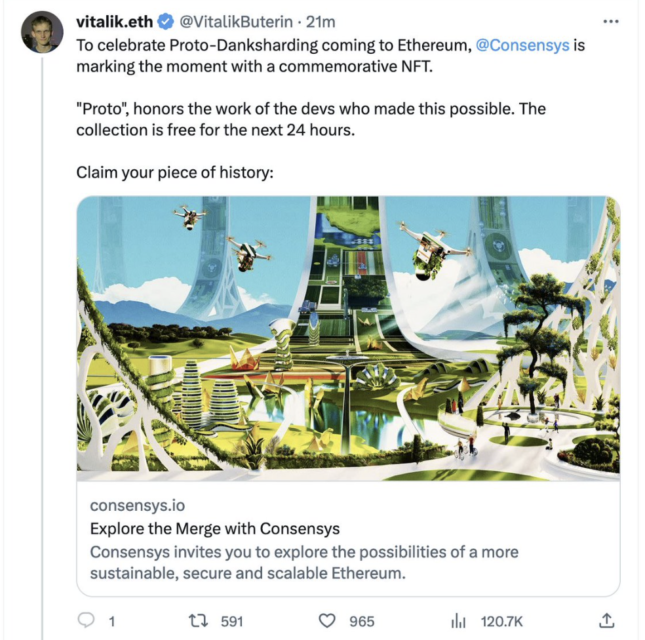 Vitalik Buterin's father confirms crypto attack
The professional handling of the post was confusing at first, but the message released by Buterin's father, Dmitry, confirmed this unfortunate event. Dmitry stated that his son's account was compromised.
1111
Vitalik Buterin's X account was hacked and more than $691K was withdrawn from victims' wallets
Following the breach of Ethereum co-founder Vitalik Buterin's X (formerly Twitter) account, victims allegedly suffered losses in excess of $691,000 due to a malicious link falsely promoting a free NFT.
Vitalik Buterin, co-founder of Ethereum
The 1,626$X (formerly Twitter) account was allegedly hacked. According to leading blockchain researcher ZachXBT, the incident resulted in victims collectively losing more than $691,000 after clicking on a malicious link.
Vitalik's father, Dmitry Buterin, announced in his post on X on September 9 that his son's account was hacked:
"Ignore this post, it looks like Vitalik has been hacked. "Working to restore access."
The post he mentioned was later deleted.
It was posted on Buterin's account claiming to celebrate "the arrival of Proto-Danksharding on Ethereum".
hacker,
with a non-fungible token (NFT) that purportedly exists as a free commemorative
shared a malicious link and
He encouraged victims to tie their wallets and eventually stole all their funds.
As a result, this incident led to Ethereum developer Bok Khoo, known as 'Bokky Poobah' on X.
In the CryptoPunk NFT collection
This led him to claim that he had suffered losses.
At the time of publication, the current base price of the CryptoPunk NFT is 46.99 Ether, which is equivalent to approximately $76,837.